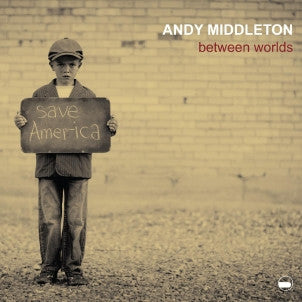 Andy Middleton - Between Worlds
The very special sound of this recording comes from Andy Middleton's fusion of the American jazz tradition with elements of European jazz and classical music performed by master musicians who have lived in both the US and Europe. This musical magic of BETWEEN WORLDS continues the tradition in 2010 of recordings from the 1970's like those of Ralph Towner, Keith Jarrett and Kenny Wheeler from an era of wonderful American/European collaborations.
ANDY MIDDLETON about BETWEEN WORLDS: "For me the title 'Between Worlds' has had a particular meaning that was more personal and spiritual than political, but when Michel Bisceglia (Prova Records) suggested the CD cover art with a photo of a small boy holding a sign that says 'Save America', I realized that the title had a lot of relevance in this way as well.
BETWEEN WORLDS signifies being in this world but not of it, which is really how I have felt the 4 years I've lived in Europe. It also clearly describes being an American in Austria and no longer being fully 'American' while also not being 'Austrian'."
Andy Middleton is a heavyweight in the world of jazz. Andy won First Prize, Best Soloist and Best Arrangement Awards at the 13th Europe Jazz Contest in 1991. He has worked together with jazz heroes like Lionel Hampton, Bob Mintzer, Randy Brecker, Maria Schneider, Joey Calderazzo, Dave Holland & Ralph Towner and Kenny Wheeler
Michael Brecker: "Here is the sax player with the courage to pursue his own voice. Here is improvising and writing in its best form - really pretty amazing!"
David Liebman: "Andy Middleton represents the best of a new generation of jazz musicians."