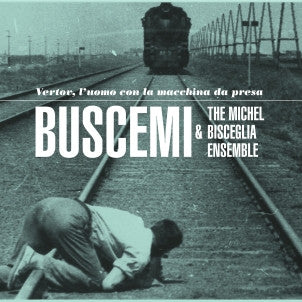 Buscemi & The Michel Bisceglia Ensemble - Vertov
The album "Vertov, l'uomo con la macchina da presa" was originally written for the urban documentary, "The Man With The Camera" of Dziga Vertov. Because of the extraordinary musical character of this album, it will be available for sale.
Dirk Swartenbroekx (alias Buscemi) and Michel Bisceglia have combined the styles with an extraordinary music blend as result. Buscemi's love for Brazilian groove, bossa nova, afro-beat en drum'n bass flows together with the typical style of "The Michel Bisceglia Ensemble". The style you can experience as a flirt between classical, jazz and electronics (samples & beats). Both artists composed all the tracks. Also working on this album: jazz guitar player Jo Mahieu, bassist Werner Lauscher, cellist Lode Verkampt and reed/bandoneon Rony Verbiest.
Appreciation of the electric character between Buscemi and "The Michel Bisceglia Ensemble" was earlier noticed during "Jazzworks" on the Blue Note festival. With initiative of the Beurschouwburg several live concerts were played of the "Vertov" project in several concert halls in Belgium.