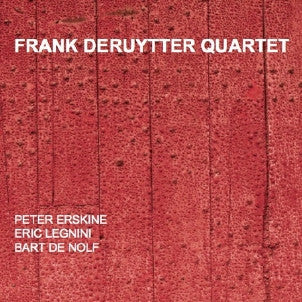 Frank Deruytter Quartet
The latest self-titled album by Belgian saxophonist Frank Deruytter gathers some of the finest jazz musicians. The icing on the cake is the rhythm section with the legendary percussionist Peter Erskine.
Two years ago the Belgian festival C-Mine Jazz decided to set up an unique jazz production. It wasn't a simple task, but the organization was able to convince Frank Deruytter and Peter Erskine to collaborate. The original plan was only limited to a performance at the festival, but after some further contact the two decided to record a jazz album. "The recordings were like a dream coming true," says Deruytter. "Peter is one of my all time favorites and I learned a lot of his albums."
Together with bassist Bart De Nolf and pianist Eric Legnini the duo went  to the studio for an album that transcends the borders of Belgium. Deruytter is known as one of the most important saxophonists in Belgium and the reputation and track record of Peter Erskine is massive. He played together with Jaco Pastorius in the jazz band Weather Report, but also musicians like Diana Krall and Joni Mitchell did call on his services. "There's a lot of adrenaline in your body when you play with someone like Peter, but I dare to say that we went beyond our own capacities" testifies Deruytter. "The album also developped very organically and the result was a lot more spontaneous than I had ever hoped for. It was the first time in my life that I was fully satisfies with all the first takes." The saxophonist is also praised Erskine. "His anticipation is just amazing and as a musician that's really comforting. He also puts little weight on the technique of his game, although he can play some incredibly complicated things" Deruytter also notes that the other musicians formed the perfect team for this record. 
The self-titled album tells a story that Deruytter wants to bring to the listener in one time. "That's why I don't look at the pieces separately. You can certainly hear a groovy sound, but also some emotional pieces that occasionally go dressed in some humor", says Deruytter, who is still astonished by the collaboration. "This is a life long memory. With each piece I played with him, he turned into a kind of giant encyclopedia. I really learned a lot recording this record. "