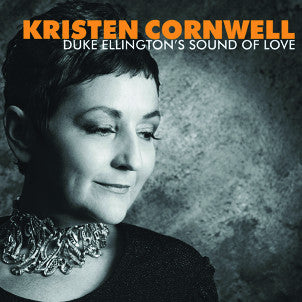 Kristen Cornwell - Duke Ellington's Sound of Love
Kristen Cornwell delivers with 'Duke Ellington's Sound of Love' a striking and surprising tribute to the American jazz legend Duke Ellington.
The Australian singer, resident in Belgium since 2004,brings the music of "The Duke" with a deep respect for tradition and brand new arrangements by composer Michel Bisceglia.
Traditional elements heighten the albums sophistication in tempo, color and the interplay of the musicians. The addition of a string orchestra provides a touch of glamour, enhancing the musical expression throughout the entire album while simultaneously creating a cinematic atmosphere. Kristen infuses each song with personal expression proving herself to be a master storyteller.
Since the legendary Ella Fitzgerald song book there have been few singers who have challenged themselves with the works of Duke Ellington. "Duke Ellington's Sound Of Love" is without doubt a unique and deeply personal overview of a legendary jazz musician. As Ellington said "The wise musicians are those who play what they can master". With this album Kristen Cornwell has certainly proved herself as a worthy member within this category of musicians.
Musicians on the album: Kristen Cornwell vocals; Michel Bisceglia piano; Carlo Nardozza trumpet; Patrick Deltenre guitar; Werner Lauscher bass; Mimi Verderame drums; Prova String Orchestra strings.