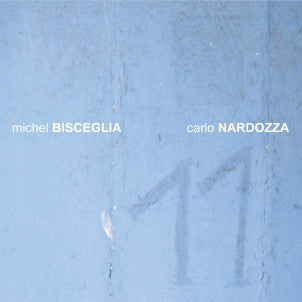 Michel Bisceglia & Carlo Nardozza - 11
TWO GREAT JAZZ MUSICIANS BLEND THEIR SOUNDS INTO THIS PURE AND EXCITING ALBUM
Trumpeteer Carlo Nardozza and pianist Michel Bisceglia combine their talents to create a wonderful and surprising duo album with haunting melodies and beautiful themes.
The Belgian musicians with Italian origins worked together on different projects during the last few years. The two friends both started to think about a collaboration with only a piano and a trumpet. "This well known jazz formula is a very interesting challenge", Michel Bisceglia says. "The instruments grant each other so much space, but they blend so beautiful!" The concept was not an evident choice according to Carlo Nardozza: "This record was demanding because there is no rhythm section in the music."
Eleven also reflects the combination of two different identities. "Besides jazz, I'm composing a lot of other music, while Carlo is rather busy with jazz music or big bands", Bisceglia explains. Nardozza: Another striking difference is the serenity of Michel. I'm rather spontaneous and impulsive."
The duo already gathered some fame in the jazz scene. Bisceglia recorded five studio albums with his trio and toured around the world. As composer and musician he worked with jazz icons such as Randy Brecker, Bob Mintzer and Toots Thielemans. He was also nominated two times as Best Belgian Musician of the year.
Trumpeteer Carlo Nardozza studied at the Conservatorium of Maastricht. His teachers included Claudius Valk and Bert Joris. He won various prizes with his jazz quintet and played with artists like Philip Catherine and Brussels Jazz Orchestra.