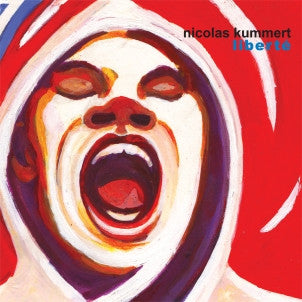 Nicolas Kummert Voices - Liberté
NICOLAS KUMMERT VOICES RETURNS WITH A SINCERE AND COLOURFUL JAZZ ALBUM
Liberté sounds more introspective and darker than its predecessor; but it keeps that groovy, party feeling of the African influences and the real sing-along melodies, which became the trademark of this high level yet very accessible jazz group.
The 35-year-old Nicolas Kummert, a Belgian sax player and singer, has been very active worldwide in studio and on stage for over 15 years now. During this period he has worked with numerous renowned jazz musicians. He also plays with DJ's and African singers, which made him become a very versatile musician about whom Brad Mehldau wrote: "There is often a wonderful gentleness to Nicolas Kummert's playing that perfectly suits the music… and he shows a great musical personality".
For the upcoming tour, occasionally they will also present 2 special guests who will each add a unique element to the concerts: Madeleine Tirtiaux and Nicolas Lefèvre. Madeleine Tirtiaux will paint her portrait of Trayvon Martin live on stage; this portrait is also the album cover of liberté. Nicolas Lefèvre will perform live electronics on stage with the band, applying effects on the acoustic sounds of the musicians like he did while coproducing the record in his Sunnyside Inc studio.
Performing musicians on the album: Nicolas Kummert: sax, vocals, talkbox; Hervé Samb: guitar, vocals; Alexi Tuomarila: piano; Nicolas Thys: double bass, vocals; Jens Bouttery, drums, vocals.