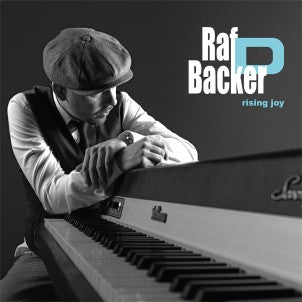 Raf D Backer - Rising Joy
RAF D BACKER BARES HIS SOUL ON HIS DEBUT ALBUM
Rising joy, the debut album of pianist Raf D Backer, offers a wonderful mix of jazz soul, gospel and blues. This young Belgian musician binds tradition and  contemporary elements in a very natural, elegant and sophisticated manner.
The album was produced by Eric Legnini and Daniel Romeo. It consists mainly of self-composed songs, but also offers a few excellent covers. He was inspired by  musicians whose music has always strongly moved him, such as Les McCann, Dr. John, Professor Longhair, Bobby Timmons, Ray Charles, Eddy Harris, the Meters and the Headhunters.
Raf D Backer  is very pleased with the way the songs of this album were created: "the music has revealed itself to me in a natural way, without calculations and in a very spontaneous manner.  I simply followed my instincts to where they led me. I immediately felt I could express myself freely and sincerely, that was a very pleasant experience."
Performing musicians on the album: Raf D Backer: piano, b3 hammond, fender rhodes, clavinet, keys; Lionel Beuvens: drums; Cédric Raymond: upright and electric bass.  Guests: Lorenzo Dimaio: guitar; David Donatien: percussions.